Abenteuerspiel!
A downloadable roleplaying game
Abenteuerspiel! is a freeform adventure game that can be played solitaire, cooperatively, or guided by a referee. The game is rooted in Messerspiel and Trophy Gold and inspired by my love for the free kriegsspiel mantra of "play worlds, not rules." Abenteuerspiel! is designed to give you just enough mechanics to make things interesting... and then get out of the way so you can focus on playing the world!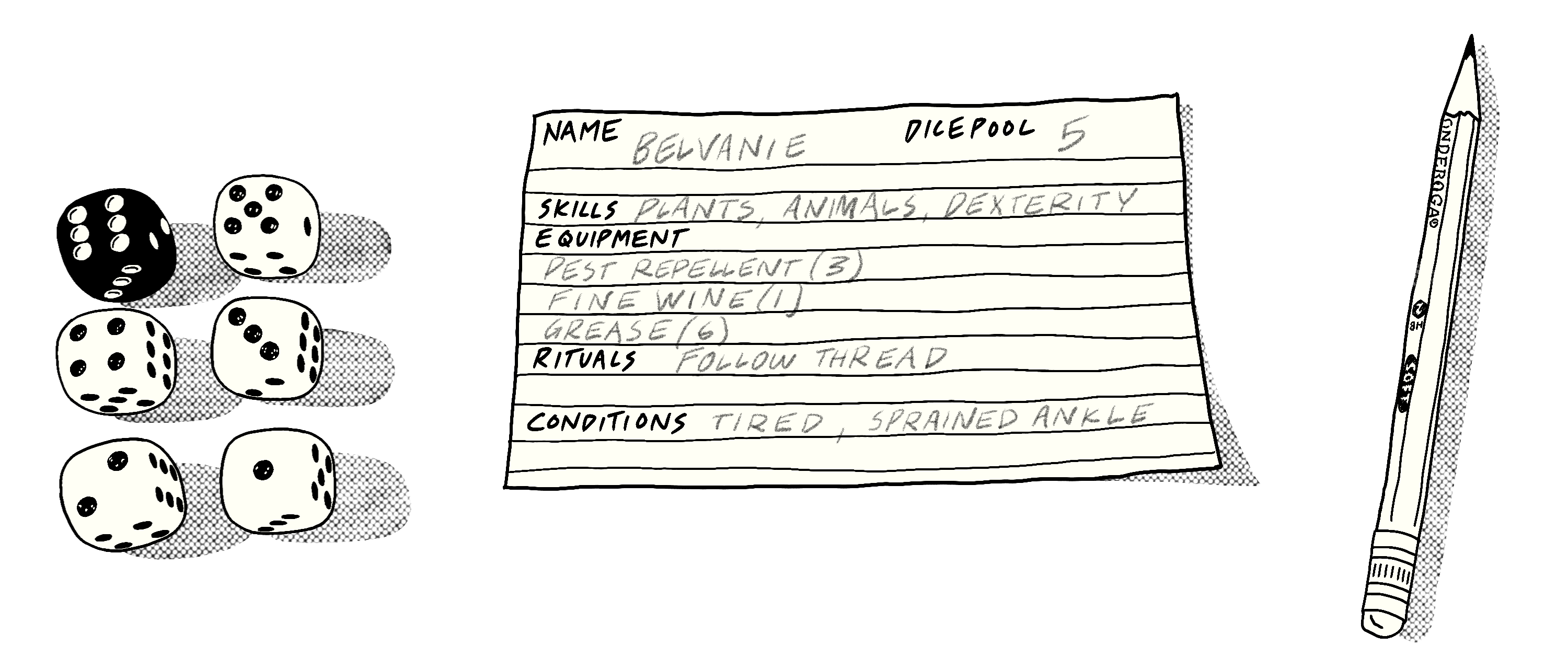 All that you need to play are six standard dice (one being a different color than the rest), an index card, and a pencil.
What Abenteuerspiel! is:
Easy-breezy. Characters can be created in seconds and fit on an index card. Then pick a genre, setting, or time period and start playing the world! Or start running through your ever-expanding collection of OSR adventures.
Freeform. This ultralight ruleset allows for maximum freedom and flexibility, putting you in control of how narrative or simulationist you want your game to be.
Customizable. Each aspect of the game can be tweaked, modified, or built upon to play in almost any genre or style. (More on this in a forthcoming makro edition!)
What Abenteuerspiel! isn't:
Classes, races, ability scores, armor class, hit dice, hit points, saving throws, difficulty scores, roll for initiative, attack rolls, levels, stats of any kind, etc.
Here's how it works:
Character creation is as easy as choosing skills, equipment, and rituals. Create these yourself or choose from the old-school fantasy examples provided.
You do things and they happen... unless it's risky. To resolve risky actions ask a simple set of questions, roll the corresponding dice from your pool, and check the highest result. On a 6: good outcomes, on a 4-5: mixed outcomes, and on a 1-3: bad outcomes.
Mixed and bad outcomes result in character conditions that will impact future actions. Something as simple as a sprained ankle can have real fictional weight in this game! Clear conditions by taking appropriate measures.
Roll the stress die when your risky action is stressful or to resist an outcome. If the result is lower than the size of your pool, exhaust one die from the pool. To replenish your dice pool, take a long rest and roll your exhausted dice. Results of 4-6 get added back to your pool.
There you have it, that's pretty much the whole game. I'm really happy with it!
If you love Messerspiel, Trophy Gold, Blades in the Dark, or Cthulhu Dark, and are curious about a more freeform style of play, I think you're going to love Abenteuerspiel!
Play Abenteuerspiel! online with Abenteuersheet!
Huge thanks to Dozens for putting together this online character sheet & dice roller for Abenteuerspiel! Check it out here (and support Dozens with a tip if you can!).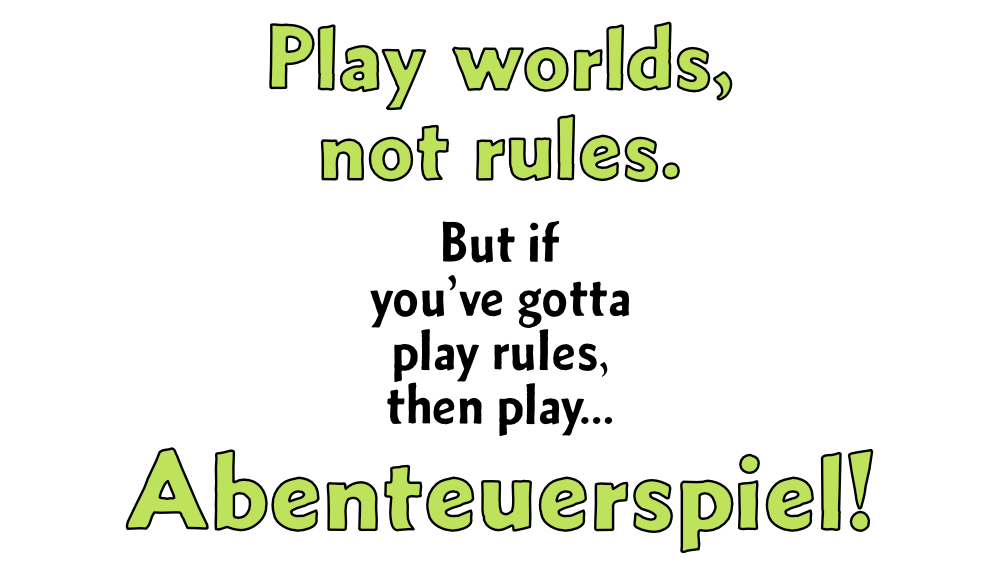 What $3 gets you:
Digital file: An 8-page PDF for your phone or tablet.
Print files: A 1-page PDF to print and fold into a pocket-mod microzine (in Letter and A4 formats). A character sheet PDF to print (2 sheets per page).
What $3 per month gets you:
ALL OF THE FILES: This game, plus all of my other projects (past, present, and future), and more!
Good Vibes: For providing sustainable support to an independent creator.
Check out the Terribly Beautiful Patreon to learn more.
Abenteuerspiel! is based on Messerspiel by Oz Browning and Trophy, a product of Jesse Ross and Hedgemaze Press. Both are licensed for use under the Creative Commons Attribution 4.0 License. Trophy is adapted from Cthulhu Dark with the permission of Graham Walmsley. Trophy is also based on Blades in the Dark, a product of One Seven Design, developed and authored by John Harper, and licensed for use under the Creative Commons Attribution 3.0 Unported License.

Purchase
In order to download this roleplaying game you must purchase it at or above the minimum price of $3 USD. You will get access to the following files:
Abenteuerspiel v1.5 DIGITAL PAGES.pdf
2 MB
Abenteuerspiel v1.5 PRINT LETTER.pdf
2 MB
Abenteuerspiel v1.5 PRINT A4.pdf
2 MB
Abenteuerspiel v1.5 CHARACTER SHEET.pdf
33 kB